hidden
hidden
About CenterPoint Energy meters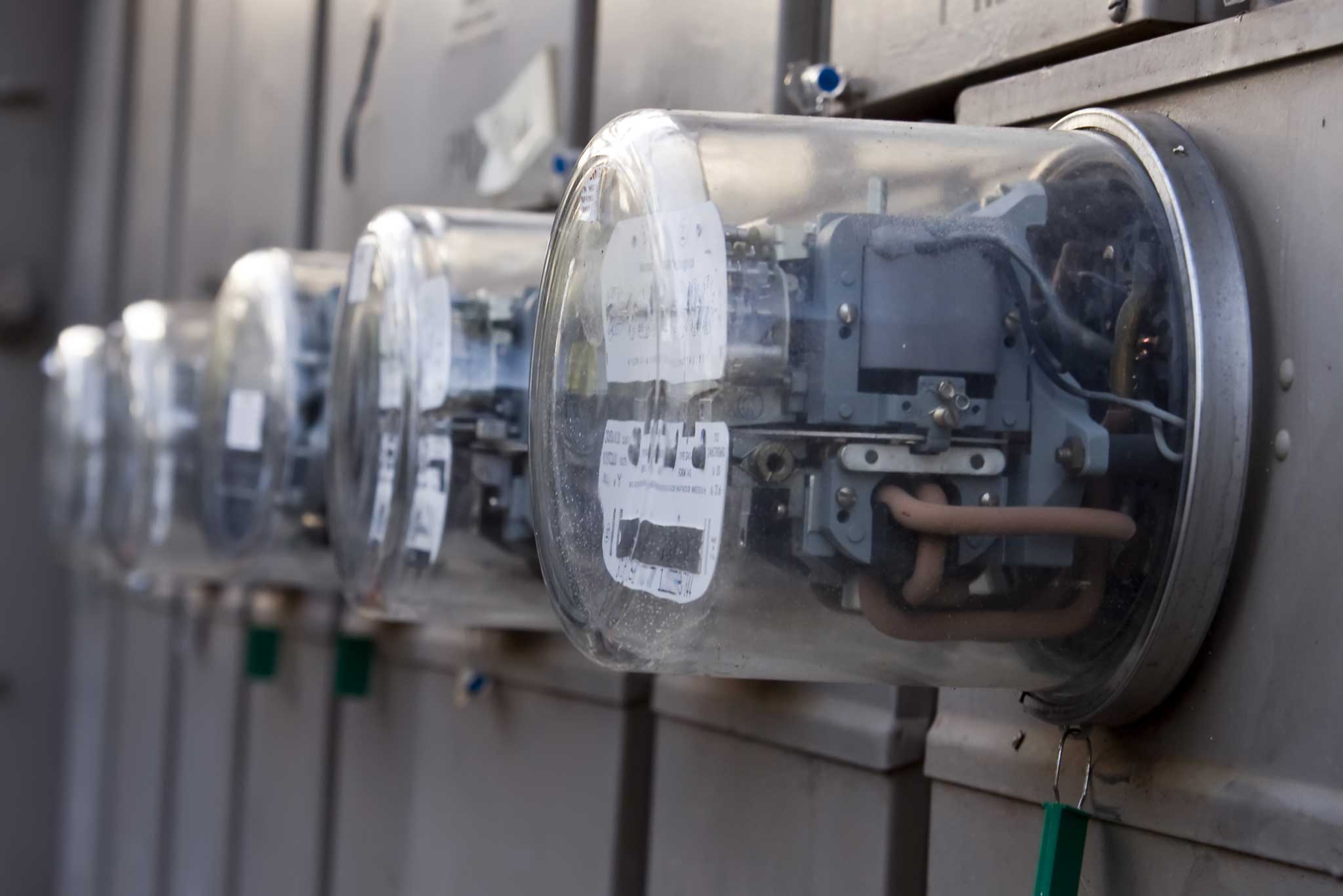 CenterPoint Energy measures your energy usage via devices called meters, which are found on or near your service location. The numbers on a standard meter indicate how much energy (electricity or natural gas) has been used during a period of time by comparing it to the last time the meter was 'read'.
hidden
hidden
hidden
hidden
hidden
Metering technology
As part of our ongoing effort to enhance service for our customers, we'll be making significant changes to our natural gas and electric meters throughout our service area. Read more about enhancements to each meter type below.
Electric meter enhancements

Part of CenterPoint Energy's grid modernization plan includes modern technology, which improves system reliability and resiliency, and also virtually eliminates estimated bills, enables quicker service, faster electric outage identification and more tools for you to manage your energy use. Smart meters are the key to supporting your smart energy future. For a quick look at the benefits of smart meters download our printable infographic.

hidden

hidden

Benefits of smart metering

hidden

hidden

hidden

hidden

hidden

Virtually eliminate estimated bills

Remote meter reads eliminate the need to regularly access your property and nearly eliminate estimated bills.

hidden

hidden

hidden

hidden

hidden

Faster service & outage response

Coming Soon! New meters allow us to easily pinpoint the source of outages and allow CenterPoint Energy to remotely activate service.

hidden

hidden

hidden

hidden

hidden

New tools to manage energy use

Coming Soon! You will be able to better understand your energy usage and make smart energy decisions.

More about smart meters

What is a smart meter?

A smart meter is an electric meter equipped with two-way communication technology that provides meter readings and securely transfers usage information to CenterPoint Energy for billing and operational purposes. The technology improves billing accuracy and eliminates the need for a meter reader to be on your property.

Why does CenterPoint Energy need to upgrade meters?

The use of smart meters makes the process of meter reading more efficient and accurate. It enables better management of energy service and quickly detect power outages as they happen, all while giving you access to energy usage data.

What benefits do smart meters offer?

Smart meters provide you with information to help make more informed decisions about your energy usage. Soon, you will have access to billing and daily usage information. If you need to start, stop or move electric service, it can be done quickly and remotely - no appointment needed. The addition of smart meters virtually eliminates estimated meter reads. In addition, electric outage response times become even faster as crews know precisely what homes are impacted by an outage rather than waiting for customers to report issues. Finally, smart meter technology will enable CenterPoint Energy to notify you when your power is out; we expect to offer this proactive communication in the near future as well.

What kind of information is being transmitted by the meter? Is it secure?

The information transmitted is encrypted over a secure network and is restricted to kilowatt hours of electricity and therms of natural gas you use. No private customer information is being transmitted through the meter, nor how customers are using energy.

Are other utilities using this type of meter?

Yes. More than 55% or 72 million of all U.S. households are now equipped with a smart electric meter, which will increase to over 90 million smart electric meters by 2020 with projects that are underway. These meters are used by multiple industries including water, electric and natural gas. It is estimated by 2020, virtually all electric meters in the U.S. and Canada will be equipped with this technology. In fact, the City of Evansville already uses smart meters for water/sewer service.

Is CenterPoint Energy replacing all electric meters with new smart meters?

Yes. Smart meters are the standard in the industry. Many utilities have been using this technology since the early 2000s. This technology has been tested and proven to offer significant benefits to both the customer and the energy provider.

Does this technology pose safety concerns related to radio frequency (RF) exposure?

No. The RF wireless communication used to transfer data from these meters meets all applicable safety standards established by government agencies, such as the Federal Communications Commission. In fact, the RF exposure to people from these meters is a fraction of the permissible exposure levels and safety standards set forth by these agencies.

Smart meters emit a tiny amount of RF compared to everyday activities and smartphones.

The meters CenterPoint Energy is installing have a duty cycle - the total time meters are transmitting RF in a given 24-hour period - on average about three minutes per day. That translates into a duty cycle of 0.21%. This means on average, the meters are NOT transmitting radio signals for 99.79% of a typical day. This level of RF is almost imperceptible, and certainly a tiny amount compared to radio, TV, satellite, lighting, Wi-Fi and air conditioning - all of which emit RF signals. In addition, these meters use very low-power transmissions and typically operate at a significant distance away from people, especially when compared to other common wireless devices such as cell phones, microwaves and baby monitors. The exposure from this type of meter is minor in comparison to other common wireless devices encountered every day.

What do the new meters look like?

The new meters look very similar to the current meters. The biggest difference is the digital meter data on the face of the meter which displays various messages.

Will I pay an additional charge for this upgrade?

The implementation of this technology is part of CenterPoint Energy's Smart Energy Future plan. There will be no immediate cost to the customer for this upgrade. Costs associated with smart meters are being deferred until the next planned rate review process, which will likely begin in 2023.

When will this meter upgrade take place?

CenterPoint Energy installed smart meters on homes and businesses throughout 2018 and 2019.

How can I access my energy usage data?

After deployment of smart meters throughout CenterPoint Energy's service area, an online customer portal will be activated. Once active, you will be able to access your daily usage data through your CenterPoint Energy account. You should expect this soon, and we will notify customers once the online system is live. In the interim, we encourage you to set up a free online account and enjoy access to account and service data. Will my natural gas meter be affected? Yes. If you have a natural gas meter, it will be equipped with a new encoder receiver transmitter (ERT), which will communicate directly with the electric meter. The gas meter will send the usage data to the electric smart meter for transmission to CenterPoint Energy.

Natural gas meter enhancements

As part of our ongoing effort to enhance service for our customers, CenterPoint Energy will install Automated Meter Reading (AMR) technology throughout its Indiana and Ohio natural gas service territories beginning in August 2015 and wrapping up in 2018.

When completed, AMR will enable CenterPoint Energy to obtain as many as 10,000 actual reads in a single route, compared to an average of 500 reads recorded per daily walking route. AMR will reduce the number of estimated meter reads and is more convenient for customers who have traditionally had to provide the utility with access to inside meters or those behind locked gates. Once deployed, these devices will result in more efficient and cost-effective meter reads.

More about AMR

What is AMR?

AMR is Automated Meter Reading. This technology enables meters to be read using handheld devices or a mobile collector. AMR uses special devices known as Encoder Receiver Transmitters (ERT) which are installed on natural gas meters to transmit meter information via radio signals to handheld computers or mobile collectors.

Why did CenterPoint Energy upgrade my meter?

AMR-equipped meters allow us to more safely and efficiently gather meter readings and help eliminate the need to estimate readings. By allowing meter readers to gather readings from a nearby vehicle or from the curb, AMR allows our meter readers to avoid many common obstacles, such as severe weather, locked gates, tripping hazards and animal interference.

IS AMR the same thing as a "smart meter"?

No. AMR-equipped meters transmit data using one-way communication. This technology is different from two-way meters, which are sometimes referred to as "smart meters." Smart meters receive and transmit information between the meter and the utility on a continual basis, whereas AMR-equipped meters allow us to gather meter readings for normal monthly billing from a nearby vehicle or from the curb. Many water, gas and electric utilities are using AMR technology for meter reading.

What type of information is transmitted?

No personal information is transmitted by the meter. Your normal monthly meter reading is collected, and the usage information is used to compute your monthly bill.

Does this mean that meter readers will not be coming on my property anymore?

There may be occasions when a CenterPoint Energy technician or subcontractor will need access to the meter for maintenance, but access to the meter for routine readings is no longer be necessary.

Do the new meters pose any safety concerns?

No. AMR-equipped meters are powered by a battery and produce low powered radio frequency (RF) exposures that are far lower than the guidelines established by the Federal Communications Commission (FCC) and have not been shown to pose any risk to human health.

RF levels from various sources

RF Levels
Source
Distance
Exposure

level

*
Microwave oven
2" from door
5
Cellular phone
At ear
1-5
Radio/TV broadcast
-
0.000005-.001
Wireless network signal
3 ft. from router
0.0002-0.001
AMR meter
10 feet
0.000009

*in microwatts per square centimeter.
Source: Electric Power Research Institute (EPRI), Radio Frequency Exposure Levels from Smart Meters (November 2010)
hidden
hidden
hidden
hidden
hidden
AVOID METER TAMPERING
Tampering with a meter is dangerous and illegal, pursuant to Indiana code 35-43-5-3. Those caught tampering with the electric meter may be prosecuted, and the service will remain disconnected until an inspection is complete. This law is in place for your safety.
When planning work on your home or business which requires the disconnection of electric service, you or your contractor must call CenterPoint Energy at least 24 hours in advance to schedule an appointment. With new smart meter technology, CenterPoint Energy receives notification when service has been disconnected. CenterPoint Energy will safely disconnect the meter or service at no cost to you. Upon completion of the work and an inspection by a state electrical inspector has been done, CenterPoint Energy will also return to reconnect and re-energize the meter or service at no cost to you.
To schedule disconnection of services, call CenterPoint Energy at 800-227-1376.