hidden
hidden
Customer resources
Note: the information contained on this page applies to gas transportation customers in our Ohio region. Select another region
Through CenterPoint Energy's Gas Transportation Service, qualifying non-residential customers with annual natural gas usage of 50,000 therms/Ccfs or greater are eligible to select from an approved-list of natural gas suppliers to purchase gas supplies.
hidden
Account Manager
Brian Volpatti (937) 312-2560
Champaign, Clark, Clinton, Darke, Fayette, Greene, Logan, Madison, Miami, Montgomery, Preble, Shelby, and Warren counties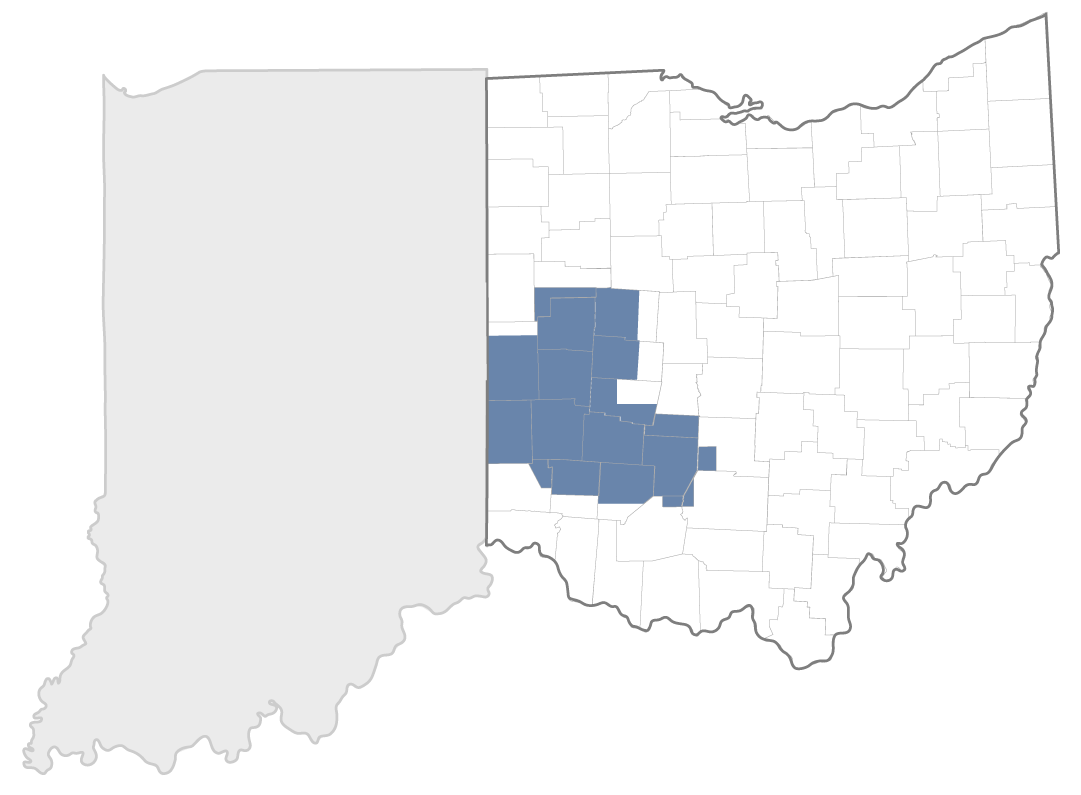 Policies & procedures
Non-residential customers with annual usage greater than or equal to 50,000 therms may participate (see Rate 345, Rate 360). A customer that returns to general sales from transport rate must remain on general sales for no less than 12 months.
Customer are responsible for obtaining an agreement with the gas transportation supplier and are subject to the nomination and balancing provisions in Sheet 51 of tariff.
Pooling Service is described in Rate 380 of tariff. Pooling Service is an optional service applicable to any Gas Supplier and any Transportation Customer under an eligible rate that designates a Pool Operator to manage its gas supply as part of an aggregated Customer Pool.
New transportation customers
Interested customers should contact the appropriate account manager.
A Service agreement must be signed by CenterPoint Energy Delivery and the customer at least 30 days prior to gas flow.
A designated phone line must be installed next to the gas meter at least 15 days prior to gas flow.
Transportation customers must obtain an agent to supply gas and must have a signed Agency Agreement by 10 business days prior to gas flow. Agency Agreements can be obtained from your CenterPoint Energy Account Manager and must be signed and returned at least 10 business days prior to the end of the month.
Agency agreements
Customers wishing to elect an Agent (Gas Supplier) to manage their gas needs must submit an Agency Agreement. The Agency Agreement as seen below must be completed in its entirety, including the customer's authorized signature, no later than 10 business days prior to the first of the month to which the agreement shall be effective. If you are requesting multiple accounts under one customer, please also fill out the multiple accounts spreadsheet below and attach along with the agency agreement. Agency Agreements may only be submitted to the Company by the customer, and must be emailed to gastransportationbilling@centerpointenergy.com. For information on approved suppliers for your area click here.
Approved suppliers/marketers
Large gas transportation customers must select from the list of approved suppliers.
Ohio BTU
Ohio BTU

| Month | BTU | ECF |
| --- | --- | --- |
| Oct '23 | 1.0727 | 1.0025 |
| Sep '23 | 1.0692 | 0.9993 |
| Aug '23 | 1.0684 | 0.9985 |
| Jul '23 | 1.0711 | 1.0010 |
| Jun '23 | 1.0734 | 1.0032 |
| May '23 | 1.0738 | 1.0036 |
| Apr '23 | 1.0742 | 1.0039 |
| Mar '23 | 1.0748 | 1.0045 |
| Feb '23 | 1.0724 | 1.0022 |
| Jan '23 | 1.0752 | 1.0049 |
| Dec '22 | 1.0738 | 1.0036 |
| Nov '22 | 1.0750 | 1.0047 |